Trips found :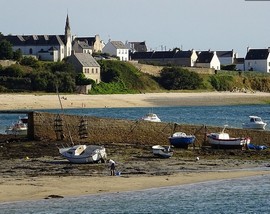 Highlights
Bigouden country, jewel of the region and Breton traditions.
Cities of art and history: Bénodet, Concarneau...
Pointe de la Torche
Self guided WALKING
GR34 COASTAL PATH AROUND BRITTANY
Activity level : 2
Duration : 8 Days
From 860 €
Highlights
Sandy beaches and amazing pink granitic rocks.
Self guided WALKING
GR34 COASTAL PATH AROUND BRITTANY
Activity level : 2
Duration : 7 Days
From 780 €
Highlights
the approach to Mount Saint Michel
the guided visit of Mount Saint Michel

The variety of the landscape : cliffs, wild islets
Self guided WALKING
GR34 COASTAL PATH AROUND BRITTANY
Activity level : 2
Duration : 8 Days
From 840 €
Highlights
Erquy and its outstanding pink cliffs
The seabirds Natural Reserve of Cap Frehel
The fortified place of Fort La Latte
Self guided WALKING
GR34 COASTAL PATH AROUND BRITTANY
Activity level : 2
Duration : 8 Days
From 870 €
Highlights
the cliffs of Plouha (104 m)
the Arcouest tip and its islets
1 night on the island of Brehat
Self guided WALKING
GR34 COASTAL PATH AROUND BRITTANY
Activity level : 2
Duration : 7 Days
From €
Highlights
Small granite cities full of History
The Morlaix Bay and its islets
Batz island
Self guided WALKING
GR34 COASTAL PATH AROUND BRITTANY
Activity level : 2
Duration : 8 Days
From 780 €