Trips found :
Highlights
The most famous region of Provence.
Perched villages under a unique sunlight.
Views over the Alpilles & Camargue.
Self guided WALKING
Activity level : 2
Duration : 7 Days
From 725 €
Highlights
The Luberon, and the heart of Provence !
Easy to follow quiet roads.
The villages of Bonnieux and Lacoste.
Self guided BIKING-CYCLING
Activity level : 1
Duration : 7 Days
From 785 €
Highlights
Blue Sea and blue sky
White limestone
Art de Vivre of Provence
Self guided WALKING
Activity level : 2
Duration : 7 Days
From 695 €
Highlights
.A great place to visit at any time of year
.Depart from Nice and explore the French Riviera
.Easy walks and cultural visits
Self guided WALKING
FRENCH RIVIERA
Activity level : 1
Duration : 7 Days
From 455 €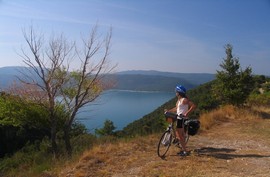 Highlights
The train des Pignes to Digne
The landscapes and art de vivre
3-star hotels (or equivalent)
Self guided BIKING-CYCLING
Activity level : 2
Duration : 9 Days
From 1205 €
Highlights
Provence : Avignon, St Rémy de Provence,
The perched villages
Gorgeous landscape
Self guided BIKING-CYCLING
Activity level : 2
Duration : 7 Days
From 905 €
Highlights
Arles Route from Camargue to Languedoc
Many great antique places
The Natural Park of Languedoc
Self guided WALKING
ARLES ROUTE - VIA TOLOSANA
Activity level : 2
Duration : 15 Days
From 840 €
Highlights
The sunny region of Provence
The Rhone River and its wealth
Extensions possible
Self guided BIKING-CYCLING
VIA RHONA
Activity level : 2
Duration : 7 Days
From 875 €
Highlights
The cultural mesh of Italian and French influences
The lost village of La Brigue, on the Italian border
The magnificent perched village of Sainte Agnès
Self guided WALKING
Activity level : 2
Duration : 6 Days
From 710 €